Avionic Service Case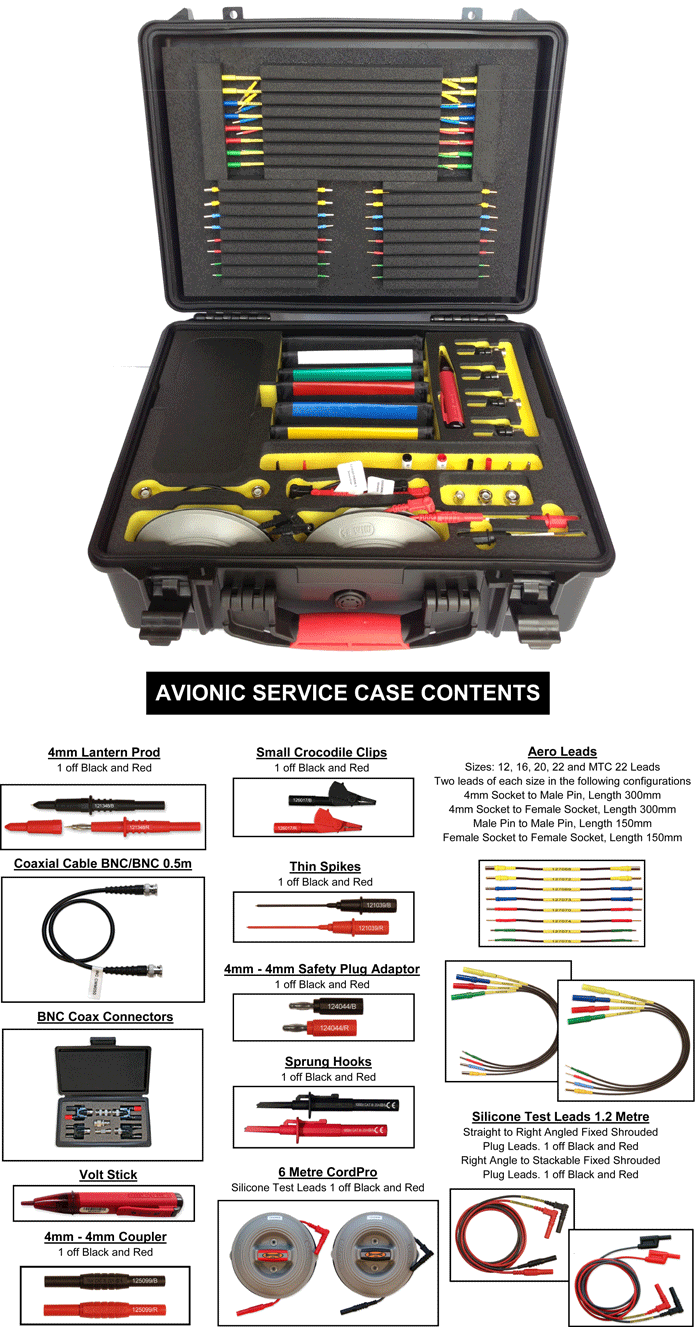 Part No:
815003 (NSN 1680-01-624-0285)
Features:
Silvertronic Avionic Service Case - Without DMM
Master Aero Kit Containing 68 pcs.
The Avionic Service Case with a comprehensive range of Test Accessories has been put together in a combined effort by Silvertronic and one of the biggest European Airlines to meet the demand for Avionic Test scenarios such as "AOG" Aircraft On Ground, Standard Service issues for example by Line Maintenance as well for general MRO requirements. The Avionic Service Case went through a long testing time at the airline with numerous test applications to make this Service Case a versatile electrical test companion in most common test needs. Containing Avionic Test Leads, Test Accessories & Adapters, Coaxial-Adapter kit, Test-Lead extensions and the optional "Aero" Digital Multimeter which is designed for avionic testing may also be used for insulation measurement.
The "Tool Control" facility is a vital part of the kit whereby each component space is labelled for quick visual inspection.
The special Avionic leads are displayed in the lid of the case for initial visual inspection but thereafter can be stored in the respective colour coded tool rolls, which are supplied within the kit.
The Silvertronic Avionic Service Case comes in a sturdy black polypropylene case which is ideal for the service environment as it is resilient to scratches, dents and is shock resistant. The case is also airtight, waterproof, dustproof and will remain afloat should it end up in water. Temperature range is -23 to +99 degrees Celsius. Overall dimensions are 49cm x 19cm x 43cm, Weight 6.1kg.
Contents: Aero Leads 22 AWG Male & Female, Aero Leads 20 AWG Male & Female, Aero Leads 16 AWG Male & Female, Aero Leads 12 AWG Male & Female, Aero Leads MTC 22 (NG) Male & Female, Cable Extensions 6m, BNC Coaxial Adapter Kit, BNC Coaxial cable, Various Test Prods & Test Leads, 4mm Adapter, 4mm/4mm Coupler, Crocodile Clips and 6 Storage Pouches for the Aero Leads.