12 Metre Extension Reel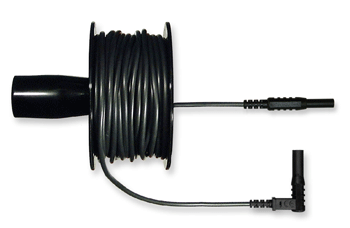 Part No:
134328/Colour
IEC 1010 Rating:
1000 Volts CAT III Double/Reinforced Insulation 20Amps
Standard Colours:
Black, Red
Features:
On some occassions the need for a lead longer than the standard length is required. This reel holds just over 12 mtrs (40 foot) of the highly flexible double skinned silicone cable as used on the standard lead assemblies.
One end of the lead is terminated in a 4mm right angled plug, the other has a 4mm socket into which the original lead can be plugged. Designed to be robust and sturdy.
This product is marked/labelled as per IEC requirements.
UL and CSA labelling upon request, please suffix /UL if required.
Additional information